NJARC Oscilloscope School
a.k.a. "Scopes for Dopes"
The New Jersey Antique Radio Club, continuing a long tradition of technical training for the electronics hobbyist, conducted our first Oscilloscope School with the generous assistance of self-described "oscillocope pilot" Alan Wolke of Tektronix. This hands-on "boot camp" introduction to using oscilloscopes was presented at InfoAge on March 5, 2011.

The 2-hour long marathon program is presented in three parts:

Part 1: History of Oscilloscopes, by Al Klase, Technical Coordinator for NJARC
Part 2: Basics of Oscilloscopes, by Alan Wolke, Application Engineer at Tektronix Corporation (begins at 15 min. 42 sec. into the program)
Part 3: A Brief History of Oscilloscope Tubes, by Nevell Greenough (begins at 2 hr. 13 min. 35 sec. into the program.)
(If you have a fast connection, you can select 720P HD video for the clearest view of the graphics.)
---
You may download a copy of the Tektronix textbook used in this seminar "The XYZs of Using a Scope" by clicking here.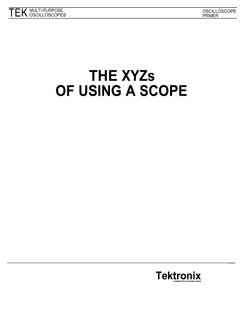 ---